FAMILY TIMESTAMPS:
So, we all know that time goes by quickly.  This activity will help to make a simple visual time stamp that you can look back on and smile. Start saving up magazines, newspapers, cereal boxes, toy shop flyers or other fun stuff and keep it in a bin. Then set up a time for everyone in the family to sit down and have some fun together. Turn on some music. Have some lemonade. Then as a family, start cutting out things that you like TODAY. Maybe your son likes a particular sports team so try to find their name in the paper.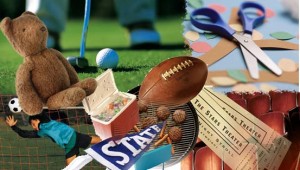 Or maybe your daughter is always playing with a certain doll that you can find a photo of in the toy shop flyer. The point of this activity is to document the things that each of your family members likes. Glue all of these things on paper– either one page for the whole family or one for each individual. If you make these each month or each year, you'll see how the kids grow up and maybe identify some of your own desires.
SUPPLIES NEEDED:
Magazines, newspapers, flyers
scissors
glue
great music
TIPS/SUGGESTIONS:
You don't have to make this a whole day project. It can be quick and fun.
A collage is allowed to be asymmetrical, crooked and creative. Let each member show his/her uniqueness!
You might need to provide a jump start to get everyone in the mood, so why not create your own and let your family learn something about you. 
If you can't find a particular picture in a magazine, or newspaper, you can cut out letters to spell the item, or just take a digital picture of Sally's doll and print it out to glue on!
If you have really little ones, you can do their part and glue on the different kinds of foods they like, maybe take off the label from a baby jar and glue that on, or trace the outline of their favorite sippy cups, or spoons.
You can do this with regular paper in a binder, or use a fancy scrapbook if you'd like. Then title it " The Smiths Family Timestamps".
Don't forget the pets!